EYE
Firming Retinol eye cream against wrinkles with anti-aging effect
EYE
Tightens the skin, reduces wrinkles and fine lines, cell-renewing effect
Intensively moisturizes the area around the eye
Physically brightens dark eye shadows
Tightens the skin, reduces wrinkles and fine lines, cell-renewing effect
Intensively moisturizes the area around the eye
Physically brightens dark eye shadows

Rate:
Datensicherheit: SSL-Verschlüsselte Datenübertragung
Tightens the skin, reduces wrinkles and fine lines, cell-renewing effect
Intensively moisturizes the area around the eye
Physically brightens dark eye shadows
EYE is our secret weapon for a firm and rejuvenated eye area - as an excellent alternative to Botox treatments, it visibly tightens and rejuvenates the skin without any invasive procedure. Thanks to the innovative active ingredient ARIGELINE®, it is virtually a "Botox to Cream".
Dr. Miriam Rehbein
Doctor Mi! GmbH, Founder
Just as effective as Botox and without toxins: EYE, the firming retinol eye cream against wrinkles by Doctor Mi!, provides the sensitive skin around your eye area with intensive moisture thanks to the innovative active ingredient Argireline™. The advantages of EYE far exceed those of a common eye cream: EYE nourishes your skin around the eyes while also acting as an eye cream against wrinkles, delivering visible and long-lasting rejuvenation and tightening. This is made possible by the active ingredient Argireline™, a clinically proven anti-wrinkle peptide and botox-like complex that improves wrikle depth by up to 50%. In addtion, Ameliox™, an evidence-based and highly dosed active ingredient in EYE, slows down the aging of your skin cells in the eye area. WIth the support of Aldavine™, a rejuvenating ingredient that also strengthens the elasticity and resilience of your skin, our anti-aging eye cream delivers the area around your eyes with a rejuvenating treatment that visibly firms it.
In addition to the rejuvenating and intensely moisturizing effect, EYE also subtly lightens dark shadows under your eyes. Naturally it also contains our innovative, TECMi!®-encapsulated retinol, which deeply penetrates your skin to directly release its full, cell-rejuvenating potential. EYE offers you the perfect all-round care for a beautiful, lively and fresh look with long-term effectivness.
Our anti-aging eye cream EYE offers you an intelligent active ingredient composition of highly effective and evidence-based ingredients that give your skin area around the eyes freshness and youthfulness:
High-dose TECMi!® retino (vitamin A1)
Hyaluronic acid
ARIGELINE®
Ameliox™
Aldavine™
Apply a small amount of EYE anti-aging eye cream to the skin around your eye area every morning and evening. Pat the cream in lightly with your ring finger, avoiding any rubbing movements. Allow EYE to be fully absorbed.
Good to know: Initially, your eye area might have a slight reaction to our powerful blend. If you experience slight irritation, slowly accustom your eye area to EYE with one application per day and gradually increase the application over time.
The desire for smoothening wrinkles and rejuvenating skin around the eye area
Prevention of wrinkles around the eyes
Normal skin
Dry skin
Oily skin
Sensitive skin
Mature skin
Pigmentation disorders
Men's skin
Die besondere Rezeptur sowie die optimalen Wirkstoffdosierungen machen EYE, die Retinol-Augencreme gegen Falten von DOCTOR MI!, zu einem unverzichtbaren Begleiter bei Deiner Beauty-Routine:
Reparierende Wirkung, Anti-Aging-Effekt, faltenglättende Wirkung
Verhindert vorzeitige Hautalterung
Stimulierung der Zellerneuerung und Kollagen-Neubildung, Steigerung der Elastizität und Spannkraft
Feuchtigkeitsspeicherung, Bewahrung der hauteigenen Feuchtigkeit, zusätzlich hydratisierende Wirkung
Hautschutz vor Schadstoffen, Kräftigung der Hautoberfläche und pH-Wert-Stabilisierung
Minimierung dunkler Augenschatten
Reduktion ungleichmäßiger Pigmentierung
Vermeide beim Auftragen von EYE reibende Bewegungen in Deiner Augenpartie. Klopfe die Pflege lieber sanft ein, denn hier ist die Haut besonders dünn. Nutze dafür am besten Deinen Ringfinger: Dieser ist der schwächste Finger der Hand und kann daher den geringsten Druck ausüben.
Den straffenden Effekt unserer Retinol-Augencreme EYE kannst Du verstärken, indem Du sie vorsichtig mit dem DOCTOR MI!-DERMAROLLER in Deine Haut einarbeitest. Beachte hierbei bitte unsere Hinweise zum Microneedling.
Verwende tagsüber und ganzjährig Sonnenschutz (Lichtschutzfaktor 50+), um Deine Haut optimal vor ihrer Alterung zu schützen.
Die Retinol- und Anti-Aging-Augencreme EYE ist wie alle anderen Produkte der DOCTOR MI! medical skincare nur für die äußerliche Anwendung geeignet. Von Kindern fernhalten!
Für wen ist die Retinol- und Anti-Aging-Augencreme EYE von DOCTOR MI! geeignet?
EYE ist für die verschiedensten Hauttypen geeignet, von normaler über trockene und empfindliche bis hin zu reifer Haut. Selbst für Männerhaut sowie bei Pigmentstörungen erzielt EYE als straffende und intensiv pflegende Augencreme gegen Falten hervorragende Ergebnisse. Grundsätzlich ist die Anwendung von EYE ab 20 Jahren möglich, insbesondere dank ihrer präventiven Anti-Aging-Wirkung.
Kann ich EYE trotz des enthaltenen Retinols bedenkenlos in der Augenpartie verwenden?
Ja, Du musst Dir bei der Anwendung der Retinol-Augencreme EYE keine Sorgen machen: Denn das enthaltene Retinol ist doppelt verkapselt, sodass es schneller und leichter in die Tiefen Deiner Haut eindringen kann. So verhindern wir gezielt, dass das Retinol an der Hautoberfläche haftet, wo es andernfalls Irritationen auslöst und Deine Haut schwächt. Jedoch kann die empfindliche Augenpartie leicht auf das Retinol reagieren. Solltest Du ein Trockenheitsgefühl oder leichtes Brennen verspüren, reduziere die Anwendung zunächst auf eine Anwendung pro Tag und gewöhne Deine Haut langsam an unsere Powerstoffe. Du wirst sehen: Deine Haut wird sich daran gewöhnen und innerhalb kurzer Zeit sichtbar verjüngt.
Enthält EYE als Augencreme gegen Falten auch Botox?
Nein, EYE enthält kein Botox, jedoch den Wirkstoff Argireline™, der eine ähnliche Wirkung wie Botox hat, allerdings kein Toxin ist. Somit wirkt es auf natürliche Art und Weise der Hautalterung in Deiner Augenpartie entgegen, ganz ohne invasive Eingriffe.
Ab wann sollte ich Augencreme verwenden?
Um Deine Hautpartie vor einer frühzeitigen Alterung zu schützen, kannst Du unsere Retinol-Augencreme bereits ab Anfang 20 verwenden.
Warum sollte ich Augencreme grundsätzlich einklopfen und nicht einreiben?
Die Haut in der Augenpartie ist grundsätzlich sehr dünn und weniger widerstandsfähig als beispielsweise am Kinn oder an der Nase. Das heißt, dass sie auch leichter Schaden nimmt. Um Deine Haut um die Augen herum vor Falten und feinen Linien zu schützen, sind nicht nur ausreichend Schlaf und die richtigen Wirkstoffe entscheidend, sondern auch der richtige Umgang mit ihr. Das heißt konkret: Gehe sanft und vorsichtig mit ihr um.
Am besten gelingt Dir das, indem Du diese Hautpartie nicht reibst, weder bei der Hautpflege noch bei Müdigkeit oder Stress. Sanftes Einklopfen Deiner Augencreme ist weitaus schonender. Beim Auftragen einer Augencreme wie EYE ist es zudem hilfreich, den Ringfinger zu nutzen, weil dieser der schwächste Finger ist und Du damit in der Regel weniger Druck ausübst.
Wie kann ich die straffende Wirkung von EYE verstärken?
Die Wirkung unserer Anti-Aging-Augencreme kannst Du verstärken, indem Du sie mit dem DOCTOR MI!-DERMAROLLER vorsichtig in Deine Haut einarbeitest. Damit kann das enthaltene TECMi!®-Retinol noch besser in Deine untere Hautschicht, die sogenannte Dermis, eindringen – und Du regst Deine Haut zusätzlich zur Kollagenbildung an, die sich verjüngend auf Dein Hautbild auswirkt. Wichtig dabei: Beachte unbedingt unsere Hinweise zum Microneedling.
Wo wird EYE hergestellt?
EYE wird vollständig in Deutschland hergestellt, wie auch alle anderen Produkte der DOCTOR MI! medical skincare.
Bei weiteren Fragen, beispielsweise zu den Themen Versand oder Bezahlung, findest Du hilfreiche Antworten im FAQ-Bereich!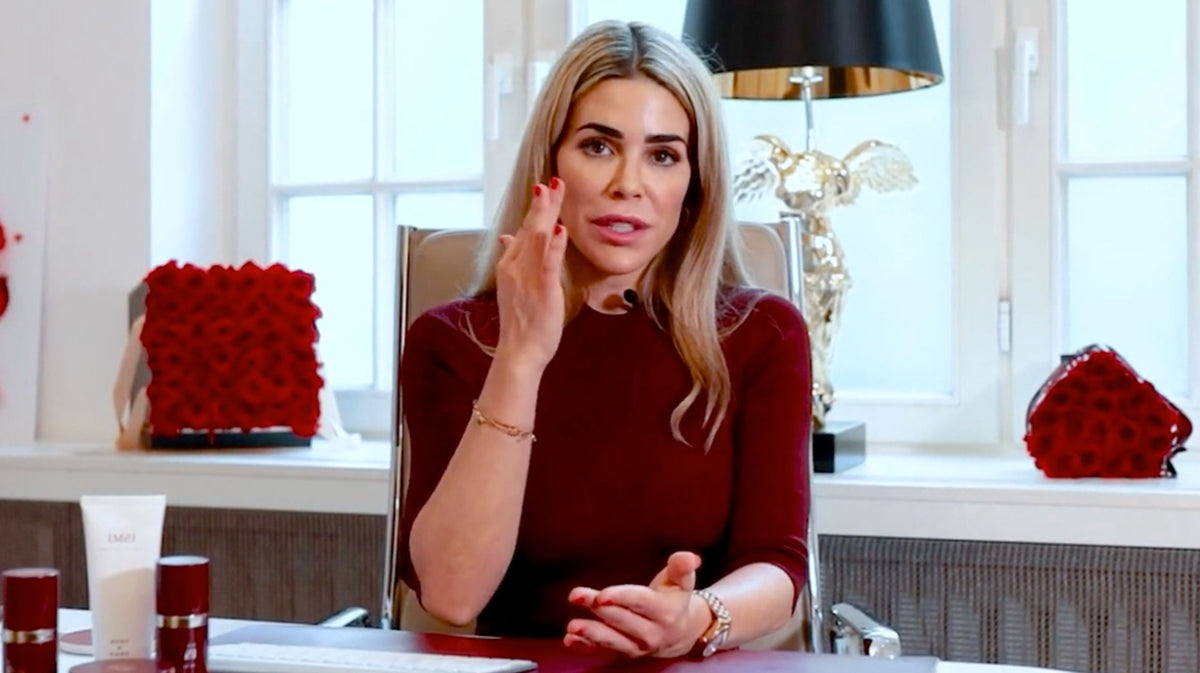 EYE Questions & Answers
Das Best Ager Set mit EYE bei Monika
Die Ergebnisse unseres 8-wöchigen Anwendungstests zeigen: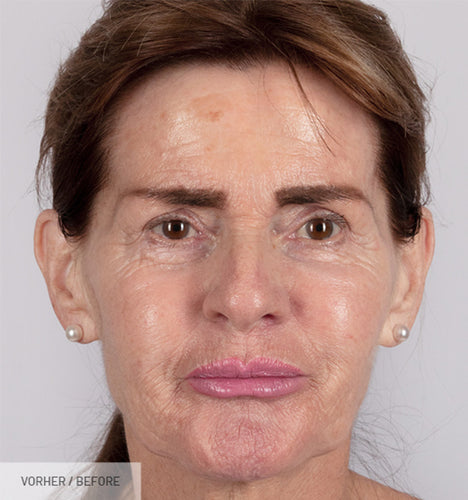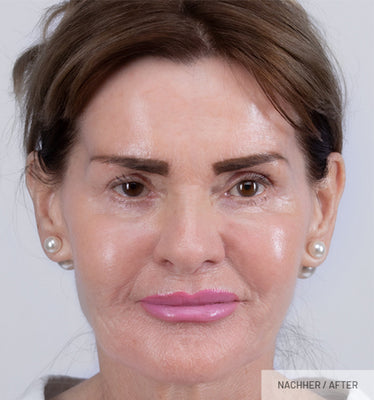 100%

der Probanden fühlen sich mit der Anwendung der DOCTOR MI! Serie schöner und jünger

99%

bestätigen, dass die Anzeichen der Hautalterung sichtbar gemildert sind

95%

sagen, dass der Teint harmonischer wirkt und sich die Pigmentbildung vermindert hat
Here, Dr. Miriam Rehbein explains to you what makes EYE so special and how to use it correctly to get radiant and healthy skin.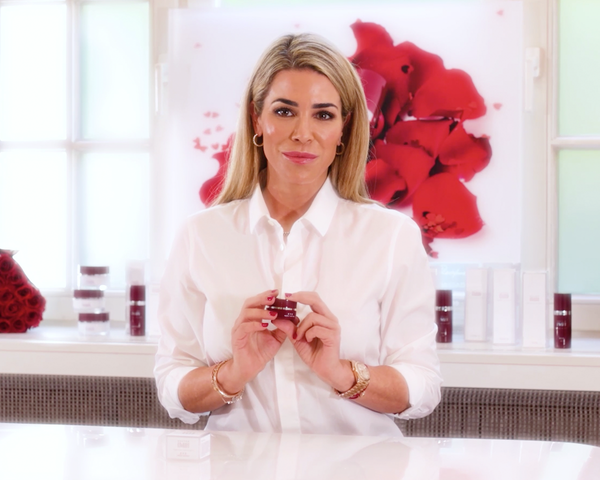 GLOW WITH Mi!
Below we will show you our care routine for normal skin. Routines for other skin types can be found in our skincare routines.
Das sagen unsere Kund:innen zu Doctor Mi!
"Bestes Produkt ever ❤️ Noch nie hatte ich so eine schöne Haut. Viele Jahre gesucht, endlich gefunden."
"...und wenn man dann noch 10 Jahre jünger geschätzt wird. 👍😍 nie mehr ohne meine Dr.Mi ❤️"
"Liebe Miriam, keine Foundation, kein Bronzer, nur NIGHT und bisschen SERUM ❤️ vielen lieben Dank für Deine tollen Produkte ❤️ Ich fühle mich so wohl damit. Irre, dass ich früher so viele Produkte genommen hab (Serum, Creme, Spray, Gedöns)"
"The Master of Retinol! 👏👸"
"The King of Beauty products 🙌 🙌 🙌❤️❤️❤️"
"Traumhaft 👌👌👌ich kann es nur bestätigen!!! Meine Haut ist besser als mit 30❤️❤️❤️"
"Das Ergebnis ist wirklich so fantastisch wie auf den Bildern 👌🌹Perfection 👈👈"
"Geniale Produkte. Ich nehme nichts Anderes mehr!"
"So ist es, das sind die besten Produkte, die ich je benutzt habe 👍👍👍👍👍"
Diese Produkte machen Deine Routine komplett
Auch enthalten in folgenden Sets: